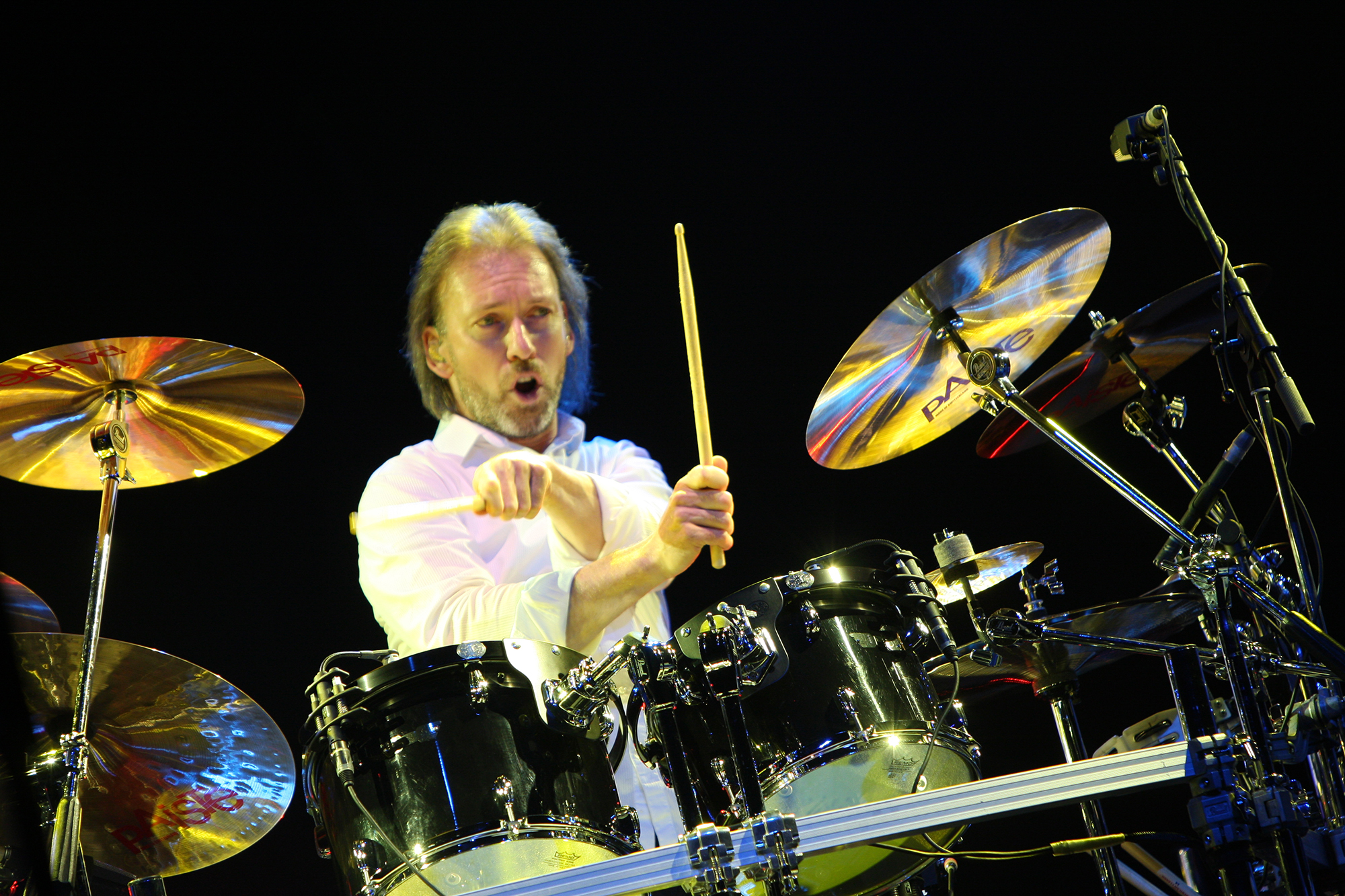 In the beginning…
I started playing drums at age six. My father, an accomplished accordion player, taught me the basics of playing and reading music before taking me to lessons with Graham Willeard of Drumland in Dartford. After four years with Graham, I studied with Bob Cleall from Rochester. Amongst other things, Bob taught me how to transcribe drum music. Years later he was commissioned to transcribe a selection of Steve Gadd's performances for a tutor book and I was able to help him out on a particularly tricky solo from Steve's 'Up Close' video.
By the age of twelve, I was playing with a local progressive-rock band called 'Sindelfingen' which was fronted by a brilliant guitarist called Richard Manktelow and also featured my brother Mark on bass. This involved playing long complicated pieces of music in all manner of time signatures… 21/16 sticks in my mind! I also developed an interest in playing guitar at this time.
For my thirteenth birthday, the members of Sindelfingen clubbed together to buy me my first guitar, a 'Hofner Verithin', which I still have. Richard soon had me playing various guitar parts in songs without drums.
At fifteen I spotted an advert in Melody Maker… the London Youth Jazz Orchestra were looking for players and my father took me to the audition in Wandsworth. I passed, as did Duncan Gaffney and so we shared the drum chair. He was a natural jazzer whereas I leant more towards the rock and funk side of big band drumming – it was a good balance. Each week there were guest conductors, all highly respected musicians such as Barbara Thompson, Kathy Stobart and Eddie Harvey. My time with LYJO culminated in a week-long tour of Holland in early '77, just when I was supposed to be taking my mock O'levels. I remember my school was not exactly thrilled when my father asked for special leave for me to go on the tour… in fact they said no. But my father knew where my talents lay and, to his credit, insisted I go. The tour was a great success, unlike my mock O'levels.
Around the same time, my drum teacher Bob recommended me for a local dinner/dance residency at a motel called the 'Inn on the Lake'. This was playing in a nine-piece show band every Friday and Saturday, reading lots of charts. Extra gigs came in and I was often doing four or five nights a week. My mother (incidentally a flute player) was also my driver – sometimes picking me up from school and taking me straight to gigs.
On leaving school in the summer of '77 the show band gig soon came to an end but I stayed with the bandleader as part of his backing band for his cabaret floorshow. He did fire eating, juggling and allsorts – it was certainly entertaining – at least for his backing band!
Needless to say, that didn't last long but he put me forward for a band called 'Flint', whose drummer had just left. They were doing a residency at 'La Dolce Notte', a restaurant in Jermyn Street, six nights a week and a club in Leicester Square on a Sunday. Still too young to drive, my Mum, bless her, was now chauffeuring me from our home in Gillingham to London seven days a week in our trusty (most of the time) blue Austin Mini-Van. Before I joined Flint they had already passed an audition to appear on the TV talent show 'New Faces'. In the January of '78, we won the show and secured a recording contract with Mickie Most at RAK Records. Unfortunately the single only reached 47 in the charts but the band worked pretty much non-stop playing all kinds of clubs, summer seasons, air force bases and the like.
I started getting hired for sessions at a local studio in Rochester and after five years with Flint, in the autumn of '82, I decided to go it alone. This was quite a step as I had not long been married, bought a house and acquired a mortgage! Fortunately, before long I got a call to do a tour of Spain with folk/rock band Magna Carta.
It turned out to be the first of many tours to come and with many different artists…
Tours

Albums

Singles/Album Tracks

Live DVDs

Films/Documentaries:

Compositions

TV/Music Appearances

Jingles

Drum Clinics

Interviews